Plugs and Upcoming Events
I revamped my Facebook page last weekend. Like it for me?
Indianapolis! I'm teaching yoga at the USA Martial Arts Hall of Fame.
Galesburg! The 2015 GAMA Open Championship Tournament is about 6 weeks away. I hope you'll consider attending this event. I attended last year's tournament, and it's a great one for both first-time competitors and veterans of the circuit.
If you've got a martial arts event coming up that you want me to plug, send me a message.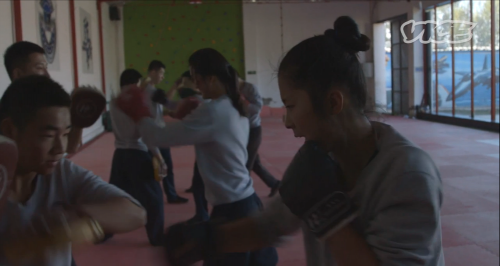 This Week in Martial Arts
This week was a good week for women in martial arts, from a spotlight feature about Chinese female bodyguards to others helping Ronda Rousey defend why she won't fight a man. Let's kick things off with this video…
This woman knows how to sling nunchucks. Thanks to Boing Boing for posting.
What are the benefits of tai chi? Many, according to several sources cited by the New York Times. Balance, leg strength, endurance, sleep habits and more are positively affected by studying tai chi. On top of that, tai chi chuan can help as a martial art for self-defense. I've studied the art for almost five years.
An MMA fighter tracked down his own thieves in what could be described as either the boldest or the dumbest move he could have made. Ryan Jensen was robbed while teaching at his gym, guessed the assailants would still be at the Walmart at which they'd last used his credit card, and trapped their car with his when he found them at the store. "I definitely could have reacted way differently," he added, suggesting he could have pummeled the crooks. But, according to my friends in law enforcement, Jensen could have been charged with aggravated assault. This report also notes that Jensen doesn't recommend this sort of vigilante justice is not the way to solve crimes because you never know what the bad guys are capable of.
Ronda Rousey won't fight a man, according to her comments here and here. So why can't we shut up about it? Sarah Kurchak of FIGHTLAND wrote the best possible response to "Ronda Rousey vs. (Insert Unfortunate Man Here)." Men who challenge Rousey need to think about pro wrestling here (after all, CM Punk even said "MMA is pro wrestling"). If Ian McCall challenges Ronda Rousey to a fight and beats her, he just winds up being "the guy that beat up a woman." And if he loses, he becomes "that guy who lost to a woman." Neither scenario sounds like a good one, in my view.
Speaking of female fighters…
Chinese Female Bodyguards is a short film about, well… exactly that. You see, the Chinese police force can't provide 24/7 protection, so they rely on civilians protecting themselves. As the video suggests, some Chinese hire security guards as a way to flaunt their wealth. This video follows one women's journey as she strives to be the top female bodyguard in China. A bonus for me is that after only three weeks of learning Chinese, I was able to pick out certain words they were saying.
Get updates straight to your inbox!
Like what you've read? Sign up for my blog updates, and I'll deliver them straight to your email. Then, share this link on social media!
[mc4wp_form]