Pre-blog notes:
– I post a new This Week In Martial Arts every Saturday morning. When you're done with this one, go back and check out all the other cool links I've pulled over the past few months by going through the This Week In Martial Arts tag.
– If you like this post, please remember to share via social media using the icons at the top and bottom of this post.
– If you REALLY like this post, get others like it and sign up for regular email updates!
– I share cool links throughout the week, so like my Facebook page, and you can also follow me on Twitter.
This Week In Martial Arts
David Lee Roth is the best martial artist in rock. So says Sarah Kurchak of Fightland, who's assembled a profile of the Van Halen front man's martial arts pedigree. As of 2002, Roth was still very active in the arts:
I'm talking to you here from the Mojo Dojo, which is my house in Pasadena … To this day, Monday, Wednesday, and Friday at 7 in the morning, I train in Brazilian jujitsu, and then at 8:15, my Portuguese teacher comes over. She just left, and it's my last lesson before we go out on the tour. Two nights a week, I have a kendo instructor come here, who's in his 60s, and I have a kendo hall that I built in my house here.
Kurchak's profile noted, like all good martial artists, hitting himself in the nose with his own mic stand (later requiring 14 stitches) couldn't stop Diamond Dave.
Martial arts build muscle. Just four weeks of training in Brazilian jiu-jitsu "was sufficient to promote a significant increase in muscle strength in the bench press and seated row exercises in beginners," according to a study released this month in the Journal of Exercise Physiology. The report also noted that 12 weeks of tai chi chuan boasted similar benefits. Thanks to Jason Thalken for posting.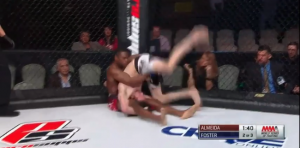 One World Series of Fighting contestant busted out a cradle piledriver during a prelim match. I don't know who either of those fighters are, but they're no Jerry Lynn. Thanks to Uproxx for the heads-up on that one.
There are no legal ramifications to being a trained martial artist. A common misconception among the general population – and perpetuated by this StackExchange post – is that martial artists must "register their hands as lethal weapons," but in my research, none of that is true. In fact, I've read before. Some schools use it as an oath from their students to their instructor, but the oath apparently carries no legal backing. If you're in Illinois, you have to make sure you can defend your actions as being reasonable in case criminal charges are filed.
A person is justified in the use of force against another when and to the extent that he reasonably believes that such conduct is necessary to defend himself or another against such other's imminent use of unlawful force.
I'd like to post more in-depth about this, so I've made a note to do some more research.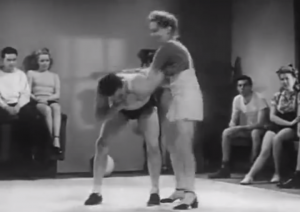 This is what women's self-defense in 1947 looked like, according to this video. Thanks to Mr. Dave Hawkey for passing that along.
Get updates straight to your inbox!
Like what you've read? Sign up for my blog updates, and I'll deliver my posts straight to your email address. Then, share this link on social media!
[mc4wp_form]
Plugs and Upcoming Events
I'm bringing DDPYoga to Indianapolis for the USA Martial Arts Hall of Fame on Saturday, April 18.
I'll be introducing the concept of inbound marketing to students at Bradley University on Wednesday, April 22.
I'm competing in Galesburg on Saturday, April 25.