Pre-blog notes:
– Thanks to Mr. Aaron Duke out of Galesburg for hosting an excellent tournament last week. It's an event I look forward to for a variety of reasons, mostly because of the positive attitude. Mr. Duke has the biggest heart in all of martial arts. Not only did he present a memorial award for his friend's child and donated a portion of the proceeds from today to the Junior Diabetes Research Foundation, he established a scholarship at Carl Sandburg College in honor of his instructor's son. Mr. Duke wrote this on Facebook a day before the event:
"We are not just martial artists, we are a brother and sisterhood. We must do more than punch and kick. We must make ourselves better and make our communities better. It's nice to have friendly competitions, win awards, medals and trophies. It is even better when we gather to make a lasting impact. Ultimately, because you registered and competed, you are directly responsible for someone, someday, being able to graduate from college, improve their life and situation and better themselves."
– I post a new This Week In Martial Arts every Saturday morning. When you're done with this one, go back and check out all the other cool links I've posted.
– If you like this post, please remember to share via social media using the icons at the top and bottom of this post.
– If you REALLY like this post, get others like it and sign up for regular email updates!
– I share cool links throughout the week, so like my Facebook page, and you can also follow me on Twitter.
This Week In Martial Arts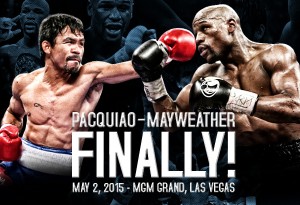 The biggest fight in the history of boxing takes place tonight. A crappy Filipino congressman, Manny Pacquiao, takes on the undefeated and serial misogynist, Floyd Mayweather. Combined, they'll take home nearly $300 million. Each man will make more money as a result of this fight than is the combined worth of everyone who's viewed my website ever. Usually I try to think positive (see link below), but this amount of money is just incomprehensible to the average person.
"Karate people break bricks every day" is just one of the 10 disturbing karate myths everything thinks are true. Self-proclaimed Karate Nerd Jesse Enkamp debunks many of these ideas, my favorite of which is his evisceration of the notion that karate's forefathers were peasant farmers.
"If you were a poor farmer in ancient Okinawa, working 12 hours a day in the rice field just to support your family, would you spend your few free hours punching and kicking imaginary samurai warriors in secrecy to develop some kind of deadly fighting system?"

Sure.

And I'm the Pope.
Jesse points out 12 masters, all of whom belonged to a privileged warrior class. Thanks to fellow USA Martial Arts Hall of Famer Michael Brand for posting.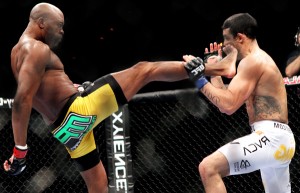 Anderson Silva hopes to compete in the 2016 Olympics. The former UFC middleweight champion wants to compete in Rio De Janeiro as a heavyweight in taekwondo . "If I don't do this," he said on Instagram, "I will never know if I really can make it."
Meet your goals with these 15 phrases. I'm a big believer in thinking positive thoughts, so I was happy to see Sujan Patel's Inc. article come through my Twitter stream. When you're on a roll, just don't break the chain.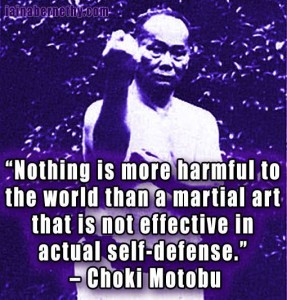 Finally, some sage advice from Choki Motobu. "Nothing is more harmful to the world than a martial art that is not effective in actual self-defense."
Get updates straight to your inbox!
Like what you've read? Sign up for my blog updates, and I'll deliver my posts straight to your email address. Then, share this link on social media!
[mc4wp_form]
Plugs and Upcoming Events
If you'd like me to bring DDPYoga to your next event, contact me.