Click here to read the original article highlighting Ken Maurer's highs and lows as Metamora's superintendent
Principal and superintendent
Maurer has never taught elementary school, but was a K-6 principal and a K-12 superintendent at Elmwood.
While serving as the principal, Maurer asked teachers to write something good about each student on that student's report card.  Maurer would hand-deliver report cards to the first and second grade students and tell each student what was written about them.
Maurer also asked his staff to praise the students who had done something good at recess, for example.
He would occasionally go into the classroom and help students with their homework.
"But you could reverse things pretty quickly," he said regarding what lessons the teachers had gone over, "so I didn't do much."
Overall, Maurer said he enjoyed the children.
"The big thing for teachers…if the teacher cares about you, [a student] will want to succeed," he said.
"You could probably think back to what teacher you had and if they cared about you," he said.  "You might've wanted to do better."
Now, Maurer said caring is the first characteristic he looks for when he hires a teacher, placing that along with enthusiasm and a sense of humor over subject knowledge, even though he said all factors are important.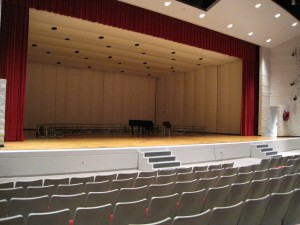 Building the auditorium
Early in the new millennium, Metamora voters passed a referendum for a building addition to MTHS, which included new classrooms and an auditorium.
"That's my pride and joy," Maurer said.
Winkler said board members and the administration came up with a list of things to include during the planning stages of a new addition.
"One of the things on that list was an auditorium," he said.  "We knew to keep the cost manageable we needed to cross some of those things off."
But they kept the auditorium in order to help the fine arts program at the school, and a resource for the community for assemblies and concerts.
"It was one of the things Mr. Maurer thought was very important," Winkler said.
[Update 4/27/11: Tyler Maritote of the Peoria Journal Star and DeWayne Bartels of the Woodford Times recently reported the auditorium would be named in honor of Maurer.]
The extended school year
Because of his eye troubles, Maurer was unable to finish the program to earn his doctorate degree.  But he finished most of the work to get it.
"I even pretty well wrote the dissertation," he said.
The dissertation preached the benefits of an extended school year.  He started a 20-day program in 1989 as a way to allow students who had failed classes throughout the year a way to pass them with a D.
"If you fall behind in your peer group," he said, "you tend to drop out of high school."
The students, along with the staff, would run either on the track or in the country.  After exercising, they would have breakfast, and everybody had to take turns cleaning up afterward and setting the table the next day.  Maurer also brought in members of the community who talked about college, the military, prison and starting a job right out of high school.
Most made it, he said, but some dropped out.
Maurer said that the exercise and the mental challenges of class helped stimulate the students.
In surveys collected after the program, Maurer said students changed their opinions of the staff.  During the school year, most students would typically only interact with faculty when they were being punished.  But since students and faculty were exercising together, eating together and working in the classrooms during the summer program, Maurer said the staff had a lot to do with the success of the program.
Maurer said the classroom work is done using computers now, but the students still exercise and eat breakfast.  
Getting the netbooks and dealing with phones
Chianakas had to give verbal arguments at several meetings, but it was originally the English department head that had fought to get the netbooks.  Only one department was supposed to get the netbooks, but now the English, Spanish and history departments have them.  He said members of the administration and the board realized each department would put them to good use.
For the first time, students are allowed to use cell phones during school hours, but only during pass periods and lunch.  He said they're still not allowed during class times.
"If you've got that cell phone," Maurer said, "how do I know you're not texting your girlfriend?"
This is in contrast to just last spring, when the MTHS dean said cell phones weren't allowed during the day, and the dean's secretary said she'd just assume students should dump them all in a bin at the start of the day.
Tracking the sun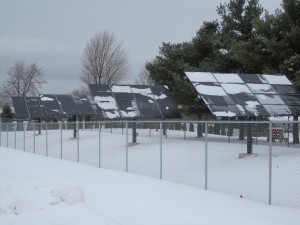 Also this school year, MTHS installed several solar panels between its main parking lot and football field.
"The demand for electricity as energy picks up is going up and up and up," Maurer said.
He said politicians mostly ignored the topic of energy in the midterm elections, but had a hunch that the topic would be more of an issue in the future.
The photovoltaic solar panels provide 10 percent of the school's energy needs, and Maurer said he wants to get that number up to 20 percent.
The panels follow the sun no matter where it is in the sky, and the energy gleaned from the sun is charted on a live data feed that Maurer said is used by physics, physical science and vocational classes.
A week after being put up, the solar panels had already generated a megawatt of electricity, Maurer said.
Once the energy from the sun stops coming, then they turn to Ameren Illinois – the former CILCO – and buy electricity.  The school does not have any batteries to store the electricity.
Solar technology isn't entirely new to the school.  Maurer said solar panels were installed on the roof several years ago and heat the water for the school.
Project Lead the Way
Now in its third year at MTHS, the Project Lead the Way curriculum was designed to help boost MTHS students into engineering positions.  The curriculum comes from outside companies that teachers need to be certified in by attending courses.
"We have jobs," said teacher Brian Stoecker, "just nobody to fill them."
Instead, he said engineering jobs are being outsourced.
In addition to aiming at keeping jobs in the United States, Maurer said instituting the program is part of a drive to help students guide their careers, partially inspired by driving up standardized test scores in science and math, and perhaps by his son Adam, who is majoring in engineering at the University of Illinois.
"Some people say, 'Oh, I'm going to be an engineer,'" Maurer said, "and then they get to college and say, 'I don't want any part of this.'"
Stoecker agreed.
"It's really opened their eyes to what's going on in the engineering field," he said.
Maurer became aware of funding through a grant for the program but wanted to make sure there was a teacher who could actually teach it, and Stoecker stepped up to take the required courses to do so.
"The kids seem to really enjoy it," Stoecker said.  "I've had kids say it's their favorite class.  It's a good feeling as a teacher."
PLTW is a private organization founded 14 years ago in New York.  According to Stoecker, a business owner had trouble finding engineers and people trained in technology.  One of his friends was a teacher, and they developed a curriculum to alleviate the issue.
Bradley University is offering college credit for PLTW classes taken in high school, but the U of I is not.  Stoecker said if students take four years of PLTW, they can start what would typically be their second semester of engineering classes the first semester of their freshman year.
Stoecker, in his fourth year at MTHS, thinks PLTW does a good job with introducing students to real-world scenarios by putting students into a story.
"The kids just love it, they eat that up," he said.
The first year, students take Introduction to Engineering Design.  The next year, Digital Electronics.  Principles of Engineering is the third class.  MTHS will unveil a new class in the curriculum next year, Civil Engineering and Architecture.
Stoecker said another PLTW teacher, Joe Bachman, is doing graduate work in evaluating how effective the program is for MTHS students.
In case you missed it, read more about Ken Maurer's career at a superintendent at Metamora Township High School, including issues with dyslexia, incorporating technology into the classroom and finding a new superintendent.
Full disclosure: I attended Metamora Township High School from 2003 to 2007.