About My DDP Yoga Class
DDP Yoga is yoga for people that wouldn't be caught dead doing yoga.
Founded by former professional wrestler Diamond Dallas Page, DDP Yoga combines the best of yoga, traditional fitness, sports therapy, and dynamic resistance to create an amazing fitness program that…
gives you a killer cardio workout
increases your flexibility
strengthens your core muscles
All with minimal joint impact!
That's because DDP Yoga contains no running, no jumping, and no lifting.
This workout is great if you're beginning yoga or you're more experienced because I will help you make this workout as easy or as challenging as you'd like.
Get started with me at Titan Fitness in Washington or Metamora Parks & Recreation in Metamora to own your life!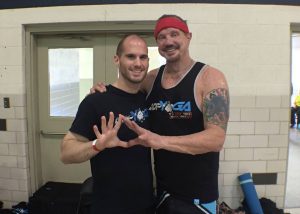 What People Are Saying
DDP Yoga builds strength:
"DDP Yoga! It's what you make of it — great for building strength and stretching muscles we don't even think of! Every time I'm glad I came " – Lori Walker 
DDP Yoga helps alleviate neck pain:
"The stretching and symmetry of a yoga session is what brought me to Adam's DDP Yoga. I run 4-6 miles a few times a week and have done so for years, but want to add another workout to help with balance, muscle symmetry and stretching (I don't consistently stretch after a run). I've felt physically challenged at each of Adam's DDP Yoga sessions, but not too sore afterward. I've noticed less stiffness in my neck and back. I recommend DDP Yoga with Adam Bockler." – Tiffany Stanley
DDP Yoga increases balance, flexibility, tone, and strength:
"I first caught DDP Yoga on an episode of Shark Tank. I was immediately smitten with the concept but historically speaking, I'm terrible doing workout videos even while in the comfort of my own home. Enter Adam! I heard he was offering a class through our local park district and I was in. I loved the class for its variety and pace but most of all I LOVED how it made me feel. Increased flexibility & balance! More tone & strength! Looking forward to my next round of DDP with Adam!" – Dawn Deeb
DDP Yoga helps with fibromyalgia:
"This is now the 3rd session of DDP Yoga that I've taken with Adam Bockler! I've tried other yoga, but this routine really stretches my muscles to keep them feeling relaxed. I've also noticed increased strength in my arms and legs. I've implemented some the arm work in my day-to-day activities to keep them loose. I have fibromyalgia, so this has helped me tremendously. As a side note – we have a lot of fun!!" – Karen Gansch
DDP Yoga Schedule
Thursdays, 6:30-7:30 p.m. – Metamora Parks & Recreation, 214 E. Partridge St., Metamora, IL 61548
Instructor Bio
Adam Bockler is a certified DDP Yoga Level 1 instructor and a certified personal trainer through the American Council on Exercise. 

He began practicing DDP Yoga in 2013 to supplement his martial arts training. Since then, he has found DDP Yoga beneficial for flexibility and strength. 

Outside of DDP Yoga, Adam has practiced martial arts since 2003. He's achieved a second-degree black belt and has been inducted multiple times into the USA Martial Arts Hall of Fame. Adam is also a graduate of the Black and Brave Wrestling Academy and performs as a professional wrestler.
Want To Learn More?
If you want to learn more about my DDP Yoga classes, fill out this form, and I'll send you more info about the classes, locations, and times.
Or, if you'd like to read my insights about DDP Yoga or fitness in general, click here.