If you like these posts, support them! All you have to do is give me your email, and I'll send these updates right to your inbox. See the form below. Your info will never be distributed by me to others. I don't roll that way.
This Week In Martial Arts
The night: Historic. The moment: Electric. The Rock, Ronda &the WWE Universe: Magic. We're just gettin' started… pic.twitter.com/mUOoBIFsaQ

— Ronda Rousey (@RondaRousey) March 30, 2015
Ronda Rousey threw out a hip toss at WrestleMania last Sunday. The UFC Women's Bantamweight Champion joined The Rock in a segment with Triple H and his wife, Stephanie McMahon. After tossing Triple H over her hip, the champ locked up Stephanie's arm until she could escape. While the deal was apparently a one-off, fans are clamoring to know whether we'll see a one-on-one match between Stephanie and Ronda or a mixed tag team match with all four at some point, or See the full video at Uproxx.
This is what happens when you stop exercising. Finnish researchers studies 10 pairs of identical twin men, one of whom exercised at least twice a week, while the other exercised less than that.
The study was small, but the takeaway is clear: Quitting your fitness routine can trigger body and brain changes that mess with your cardio fitness and strength and set you up for chronic conditions such as diabetes, says Jordan Metzl, M.D., sports medicine physician and author of The Exercise Cure.
The doctor noted that muscles can begin to atrophy within a few days of not exercising.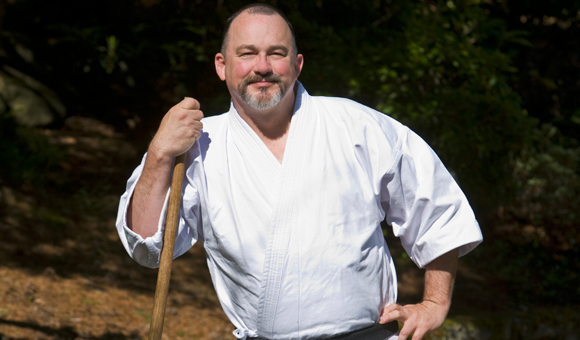 Here's what a fighting Franciscan Friar thinks about martial arts and religion. It's fitting that on this Easter weekend I've recently come across this article. My Twitter pal Kris Wilder – who's been one of my favorite martial arts authors for years – eloquently explains how the two lifestyles mesh.
Some smile at the perceived inconsistency while others take a moment to build the mental bridge from a white karate gi to a brown habit. But when I say, "You have heard of the Shaolin Monks, right?" then everything clicks into place. I am just a western expression of similar values.
Here's my review of Kris's latest book.
If you thought anything Ronda Rousey did at WrestleMania was fake, check this video out. Thanks to my friend Karl for sending that along to me.
The last man to beat Floyd Mayweather still regrets it. The New York Times profiles Bulgaria's Serafim Todorov just weeks away from the richest fight in boxing history.
You may be wondering how professional fighters can hit without being knocked out. This thread sums it up pretty well. In short, concussions cause knockouts. And concussions happen when the brain smacks the skull. Fighters have many options available for keeping the brain from hitting the skull, such as blocking and proper alignment of the head.
Get updates straight to your inbox!
Like what you've read? Sign up for my blog updates, and I'll deliver my posts straight to your email address. Then, share this link on social media!
[mc4wp_form]
Plugs and Upcoming Events
If you're headed to Indianapolis, I'll be teaching a DDPYoga seminar at the USA Martial Arts Hall of Fame on Saturday, April 18.
Look out Bradley University. I am speaking to Bradley's chapter of the American Marketing Association on Wednesday, April 22.
Galesburg! I'm making a rare competition appearance on Saturday, April 25.