This past week has been a whirlwind for me. Last Saturday, I attended my first DDPYoga workshop with the man himself, Diamond Dallas Page. DDP is one of my favorite wrestlers dating back to 1998, so it was great to chat and work out with him. My friends and coworkers know I'm an advocate for his program, and I've been happy to connect with many DDPYoga-ites (?) on Facebook since then.
Then, I traveled to the Happiest Place On Earth for a few days as I represented Float in the expo hall at Learning Solutions in Orlando. There wasn't much martial arts to be had in a business casual environment (or Walt Disney World), but I've still managed to pull together some links for you…
This Week In Martial Arts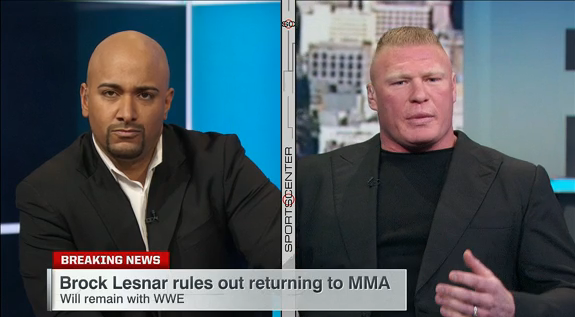 Brock Lesnar has retired from MMA. The former UFC Heavyweight Champion broke the news this week on ESPN, dispelling rumors he was headed back to fight.
"It was a very hard decision at this stage of my career," Lesnar said. "The fighter inside me wants to compete. The father and husband — I'm an older caveman now. I make wiser caveman decisions. So, I'm here to say my legacy in the Octagon is over.
Lesnar will defend the WWE World Heavyweight Championship Sunday night against Roman Reigns at WrestleMania.
Kim Aldus shares why martial arts is empowering in the latest episode of The Martial Arts Podcast. I'm really happy to have been able to sit down and talk with her about her martial arts journey, which really runs the gamut.
Everything about this is awesome

Posted by Viral Thread on Monday, February 23, 2015
You have to watch this spear fight. Thanks to my friend Trent for sending that along.
A black belt is not really a belt – some great words from Jesse Enkamp on how to be the black belt you were meant to be.
If you're a black belt, you should brush your teeth like a black belt, tie your shoes like a black belt and wipe your a** like a black belt.
Yes.
Here's how to escape a choke. I've never seen a choke self-defense like this one, and it appears like it could work. I didn't read the comments, but I assume it's full of people saying to use your legs or to do some fancier method. It seems like a sufficient self-defense technique, one of many that could be applied against a choke. Thanks to my mom for passing that along.
Get updates straight to your inbox!
Like what you've read? Sign up for my blog updates, and I'll deliver my posts straight to your email address. Then, share this link on social media!
[mc4wp_form]
Plugs and Upcoming Events
A seven-day stretch in April is jam-packed with upcoming events for me.
If you're headed to Indianapolis, I'll be teaching a seminar at the USA Martial Arts Hall of Fame on Saturday, April 18.
Look out Bradley University. I am speaking to Bradley's chapter of the American Marketing Association on Wednesday, April 22.
I'm also competing in Galesburg on Saturday, April 25.