Come to Morton on Sunday, Oct. 26, for a special women's self-defense seminar taught by Kim Aldus.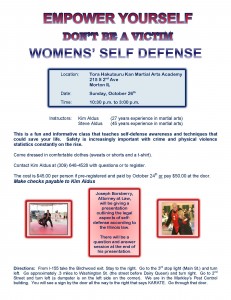 The multiple-time USA Martial Arts Hall of Famer will present material from 10:30 a.m. to approximately 3 p.m. – you may even get out early.
I have been a part of many of these classes before as somebody you can safely practice on, and in my view, it's worth every bit of your time and financial investment.
Watch that video and tell me you don't think that's pretty cool.
Or this one, too!
On top of the tips and techniques, our friend Joseph Borsberry from Borsberry Law will provide a legal overview of self-defense.
Despite the fact that violent crime is on the decline in Peoria, it never hurts to be prepared.
The class takes place Sunday, Oct. 26, from 10:30-3ish in Morton. The cost is $45. For more information, please call Kim Aldus at 309-648-4528.