Ken Maurer may be in his retirement year, but he isn't slowing down yet.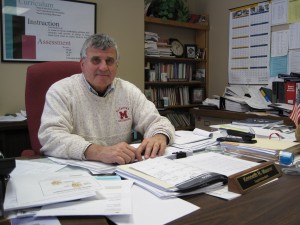 The outgoing Metamora Township High School superintendent has spent the last 41 years in education and is feverishly working in his last months to help set the school's students up for success.
The school is using new technology, such as netbooks and solar panels, for its students to use, largely at Maurer's urging.  Maurer said he's confident about the impact technology will have on his students, the United States and the world.
But the fact that Maurer, 64, even wound up where he's at could be considered an accomplishment in and of itself after he struggled to overcome an eye problem in his youth and landed his first job after interviewing at the wrong school.
Peering into his office from Madison Street, a passerby might notice the stacks of papers on Maurer's desk, waiting for his review in order to prepare for a new superintendent.  Seeming eager to stop working on tax levies, financial statements and who knows what else, Maurer left it all alone to reflect on his more than four decades in the school system.
Growing up in the 1950s
Maurer was born in 1946 and grew up on a farm with three brothers and two sisters.
"It was a big ol' farm family," he said.
Maurer lived in a house without electricity until he was 6 years old, and built a septic tank with his dad for their indoor bathroom…when he was 16.
Maurer's school provided no such luxury, either.  It was outhouse or no house.
"That's a little bit different from today," he said, likely realizing his office is just a short walk from one of the school's many sets of restrooms.
As if living without an indoor bathroom and electricity for a period of time wasn't bad enough, Maurer also had an eye problem, which laid the groundwork for much of his thinking.
"If it was today," he said, "they'd probably say I was dyslexic."
Except at that time, that term hadn't even been invented.  In fact, he's never officially been diagnosed.
"Special ed was just getting started, so nobody really figured it out," Maurer said, adding that special needs children at the time were considered "just weird."
Maurer said he would read letters and words upside down and backward.
"It's hard to believe," he said, "but letters would move off the page and all the way around the desk."
Maurer said if he told his teacher about this, the teacher would put him in the corner during recess.
"So I shut up," he said.
Maurer said there were tricks he used so he could read.
"If I used one finger to read a letter, they would stop crunching together and I could read," he said.  "But if I let go, they would crunch back together."
Maurer began to memorize things, such as math flashcards or Dick, Jane and Spot stories.  However, he was still not a stellar student.  Maurer needed to come in before and after class because he was failing.
"If you're not a good student, you still like a lot of attention," he said. "So then you become the class clown."
One time, Maurer came in to class with an eye patch.
"The teacher said they didn't want pirates here," he said as he smiled.
Instances such as these got Maurer in trouble and forced him to stay in at recess.
Maurer said his fifth grade teacher – a big, scary woman, he said – was down on him until one day when she asked her students to write stories.
The teacher, also the school's principal, noticed what he was writing.  She picked up his paper, threw it to the front of the class and told him to read it.
"I picked up my paper and read the story," he said, looking at a wall as if the scene was being projected onto it from his memory.
She asked him to read it again, he said, and he did, reciting words he'd written that were upside down, backward on both sides of the paper and not in any order.
"She told me there was no way in the world anybody could read what I had written," he said while wiping painful tears from his eyes.  Maurer admitted it was a story he hadn't told for a long time.
"She hugged me once and cried," he said.
The teacher then apologized to him and called him a smart little boy.  Maurer's teacher had noticed something was indeed wrong.  She asked all his teachers from then on to ask him questions orally instead of in writing.
Despite all he had to endure in grade school, Maurer said his eye issue is "one of the reasons I got into education, probably."
Now, Maurer said he's had to adjust so long that he thinks words automatically turn themselves around the right way.
Graduating college and landing the first job
Maurer's first attempt at college was attending the University of Illinois, inspired by his valedictorian brothers.  But, without special ed, he quickly flunked out.
Maurer wound up at Southern Illinois University at Edwardsville, but not by choice.  He knew Carbondale had an SIU campus.  While applying to SIU, he said his eyes tricked him, and he accidentally filled out the Edwardsville application.
At that time, Maurer said SIUE wasn't very big.
"The registrar's office was a house in the middle of a field," he said.
Maurer learned to type at SIUE.  He didn't have to write by hand because he could memorize where letters were on the keyboard.
"I really wanted to take classes where I could write essays and do discussion rather than multiple choice," he said.
Maurer still wasn't the best student, and he was placed on academic probation throughout his entire undergraduate career.
He was one of the first to graduate from the new university, earning degrees in pre-law with majors in history and government and political science.  But he decided he wasn't going to law school because of the multiple choice testing required to get in.
Maurer landed his first teaching job at Orchard Farm School in St. Charles, Mo., but he had intended to apply for a position at St. Charles High School.
"I went to the wrong school because I couldn't see the right address," he said.
He walked into the secretary's office, and she told him they didn't have his name and that he must've missed the appointment.  Despite that, he was still able to interview with the school's principal.
"I don't know if he was lazy, really liked me or what," he said.  But the principal offered Maurer a position.  "I signed a contract at the superintendent's office that day."
The only problem, Maurer said, is that he didn't have a teaching certificate since he didn't go to school to be in education.  He didn't even know he needed a teaching certificate until about three months into the school year.  Since there was a shortage of teachers at that time, Maurer was allowed to stay on until he could get his certificate the next summer.
Maurer received his master's degree in education administration from SIU, and later earned certificates from Illinois State University.
He said he probably could have gotten his doctorate but didn't. In the pre-computer age, Maurer faced two statistics classes that served as the main obstacles between him and a doctorate degree.  He was able to complete the first one, but couldn't do the second one because of his eyes.
Click here to read more about Maurer's early days in education
Coming to Metamora
After having served as principal and superintendent at Elmwood, Maurer left and went to Metamora Township High School.
Once there, Maurer met a major challenge.
"When I first started, the food here was atrocious," Maurer said about his arrival in 1987.
Every day, the MTHS student council would set out a table at lunch full of Twinkies and other Hostess items.  Maurer shut that table down and instituted a salad bar instead, along with more menu choices.
The students, however, revolted with a "Brown Bag It" campaign.  Maurer and the students went back and forth on the issue, until finally Hostess brought a semi and trailer to the parking lot of WMBD studios filled with its products for anybody who supported the students' right to eat Twinkies.
Tanners Orchard countered, Maurer said, by bringing a truck full of apples.  The incident made it to national television and even made international press when the Associated Press circulated a picture of him with an apple.
"I got comments from people who had moved around the country and even to Europe," he said.
At graduation that year, Maurer said he handed out the diplomas while students responded by handing him a Twinkie.
Maurer said that since then, former students have apologized for that incident.  MTHS grad Rachel West Kramer, now a professional singer, hugs him every time she sees him.
"She says she was such a rotten person in high school," he said.
Maurer said it was all for a good cause and he feels he was ahead of his time, though, "I probably could've done a better job instituting it."
Now, with a focus on nutrition, he said, "I'll put our lunches against anybody's."
Maurer's relationship with faculty and staff
Maurer has hired most of the teachers currently employed at MTHS during his 23-year tenure.
He works with them to assess the curriculum.  Every so often, students are on a "late start" schedule, and teachers get together before the students arrive at school to assess the curriculum by explaining what they are doing in the class and whether it is working.
"In the old days," he said, "teachers did their own thing and never shared anything."
Maurer said he has a caring environment for the teachers.
"You've got to take care of these people," he said.  "They all have their own problems…kids are sick, they have disabilities, their parents are getting to the age of where they need to take care of them.  You've got to keep those things in mind, too."
Other faculty members, such as the custodians and the cafeteria workers, are also included.  Bus drivers, for example, can set a tone for how a student's day will go because they get the students to school.
"Everybody here plays a role," he said.  "There is no hierarchy."
Maurer said there have been some disagreements with the staff, but "most things I've been able to work through."
After Maurer had issued his letter of resignation (PDF) in August 2009, former MTHS teacher Stephen Chromik was convicted of fondling a student and sentenced to four years in prison.  A jury trial acquitted Chromik of having sex with the student.
"It's probably the black mark on my career right now," Maurer said.
Before Chromik was hired, Maurer said he knew of a prior incident in Tennessee where Chromik had been convicted of assault, but had no sexual conviction.  Maurer said Chromik, a Bradley University graduate, would not have been admitted to the teacher education program with a sexual conviction.  The faculty at Bradley gave high marks and good references for Chromik, Maurer said.
"I think we did the right thing," Maurer said about hiring Chromik.
Now, the former student is suing the school for negligence in Chromik's hiring.
Pending trial aside, Maurer hasn't been one to let hardships stop him.
"Life isn't about waiting out the storm," he said.  "You have to learn how to dance in the rain."
The unlikely choice
If Maurer had one criticism of himself, he said it would be that he always sides with the underdog.
Maurer said a lot of students come to school with baggage and anger.
"If you continue to do the same thing over and over, you're going to get the same results," he said.
One student, Charlie, had been expelled after he was caught smoking marijuana, among other activities.  As Charlie pleaded with Maurer to let him back into school, Maurer told him he would have to learn how to read.
"It was here or jail," Maurer said.
Chris Mangold, who now teaches art, taught reading to students who couldn't read.  Charlie was in her class.
"When he started, he had a negative attitude," Mangold said.
Mangold said her approach was different and tried to show students how to learn reading in real life as opposed to a school setting.  She set up a project where students would read to senior citizens at Snyder Village and grade school students at St. Mary's.
The seniors, she said, enjoyed having younger people around.
But she said reading to the grade school students helped the high school students learn.
"You always make the reading easier than the person is capable of doing," she said.
For example, if a student could only read at a fifth-grade level, then the student would read to first graders.
"The idea is to give them confidence," Mangold said.
On one of their trips, Mangold asked Maurer to film her students reading to the grade school students.  As they walked the several blocks from the high school to the St. Mary's, Maurer noticed the grade schoolers flocking to Charlie.  Charlie had read to them before and the students loved him, as Maurer noticed when he watched.
"Boy, he's got em," Maurer said, smiling and remembering what was going through his mind watching Charlie read to the students.
Mangold said afterward, the students would hug Charlie and wouldn't want him to leave.  She said he did a full 180 and started doing better in school after taking an interest in the grade school students.
One year, right before Christmas, Charlie came to see Maurer.  He had posters from the St. Mary's students that said "God Loves You," and all of the students he'd read to had signed it.  Charlie had a question for Maurer.
"Do you think I could ever be a teacher?"  Maurer recalled Charlie asking him as he stopped a tear from rolling down his cheek.
"That's the kid with the second chance," Maurer said.  "We really had to work to get him to that point."
Mangold said she ran into Charlie a few years ago and that he had married a nurse.  Active on a rescue squad, he and his wife were taking children having issues at home into their own home.
"He was really worth something, and he enjoyed being with the kids," Mangold said.  "It's kind of like he's paying back."
Rethinking special ed
Because of Maurer's eye troubles as a child and into early adulthood, "I have an understanding of what some of our special students need."
But that doesn't mean he's a strong supporter of special ed.
"Special ed doesn't allow them to develop other strengths and resources," he said.   Maurer said special ed can sometimes baby those students and do the work for them.
"Then they graduate, and they can't do anything," he said.
Rather, Maurer says teachers need to find out what special ed students can do and how they can do those things.
"It's like a caterpillar in the cocoon," Maurer said.  "If you see it in the cocoon struggling you might think, 'Gosh, I ought to help that butterfly get out of there.'  If you help it get out, it can't fly."  Its wings aren't strong enough, and it dies.
"If you let it struggle, even though it's hard to sit by and watch somebody struggle," he said, "eventually it'll get out and fly away and succeed."
Maurer recounted a story of a student who graduated last school year who couldn't see and could barely hear.  Maurer said people asked about a special graduation for the student, but he repeatedly said no and said the student could participate in the same ceremony as everybody else.
As the student made his way over to grab his diploma, the noise from the cheers of the audience disoriented him.  Maurer walked out to meet him and guided him the rest of the way.
"It's amazing to me that we can do that," he said.
"Everybody learns differently," Maurer said.  "We all just need to figure out how each student learns and gear them to something they can do."
But he said it's hard to get people who haven't struggled to see it that way.
"That's why I like the fine arts," Maurer said.  "They generally don't restrict you."
The importance of extracurricular activities and the fine arts
Maurer estimated 750 out of MTHS's 950 students were involved in some extracurricular activity.
Particularly, Maurer stressed the importance of the fine arts.
"It's just an area we need to be going," he said.
Art teacher Chris Mangold and welding teacher Kerwin Brown are now collaborating with each other so students get exposed to both disciplines.  Maurer said the departments are excited to work together.  Mangold agreed.
"I've told [Brown] I would love it if we could get the students into welding," Mangold said.
Now, Mangold's group of art students is learning how to cut, spot-weld and grind off burs.  They are keeping a journal for six weeks about their progress.
As money gets tight, Maurer said schools are typically cutting the art teacher to hire reading specialists or math tutors in order to get their test scores up.
"I'm going [with] a different approach, and it may fall flat or it may change when I leave," he said.  "It's a different way of learning."
Mangold would eventually like to bring electronics classes into the mix by building a fountain in the school's patio, which is bordered on all sides by hallways.
Maurer said students could still find literature in music, for example, by reading sheet music.
"If you're in extracurricular activities, you'll do better," he said.
He praised activities such as the Future Farmers of America and the martial arts program since they may be the only activity a student is involved in.  He said students tend to take extracurriculars a little more seriously than other activities.
Last year marked the eighth year in a row that Metamora won the all-sports trophy, based on a points system ranking the eight schools in the conference.  He hoped this year would be the ninth.
Even the school's German program does well.  Maurer said the state of Illinois funds a trip to Germany for one student each year, and usually that student comes from Pete Bachfisher's German class.
"To me, there's a lot of learning in there," Maurer said about fine arts and extracurricular activities.
Not focusing on standardized testing
One reason Maurer said he's promoting the arts is because "the ACT score only measures the success of your first semester in college."
He said challenging classes and extracurricular activities get students further than high standardized test scores.
Maurer conducted a study of senior calculus students who had taken the ACT.  He said the students got a score of 24 or 25, which he said is still a good score, but that he had expected more.
He asked the students which questions they couldn't answer, and they told him they could answer all of them.
"I think they know it, but they just can't do it that fast," he said referring to the time limit of standardized tests.
"If the goal is to run the mile, it shouldn't matter how long it takes," Maurer said as an avid runner.  "Most fail at four minutes, some could get seven minutes, but who cares if it takes 10 minutes?"
Maurer said "nobody's out there in their job taking a multiple choice test."
Managing money
Throughout the Great Recession, Maurer has probably had to crunch numbers even more than usual than any other time in his career.  But he beamed about the fact that he hasn't had to cut a single teacher.
"When you're in good times, that's when you sock your money away," he said.
Maurer lobbied to raise taxes when financial times were better and said taxpayers weren't too happy about it.
"They went, 'You're taxing us higher than you need to be,' and I said, 'Yes I am,'" he said.
MTHS school board president Scott Winkler agreed with Maurer's strategy.
Instead of spending money then, Winkler said the school was able to "save up and then spend it [later] for the things you need as opposed to going in a lot of debt."
"By doing that, [we've] got some money for a rainy day," Maurer said.  "Well, the rainy day's here."
Maurer said MTHS probably has one of the highest financial ratings in the country.
"We're going to make it," he said.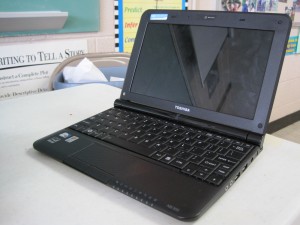 New technology at MTHS
For the 2010-2011 school year, MTHS students in three classes – history, English and Spanish – received netbooks to experiment with.
English teacher Joe Chianakas uses the netbooks for one of his classes.  He said students utilize the netbooks to take notes during class, and then students can upload their notes to Google Docs to review at home.  All testing and quizzing is done online, and he said he never has to worry about students forgetting their pens or pencils.
"I don't give anything paper anymore," Chianakas said.
He also uploads all speeches and presentations to a private web forum for other students to watch.
Chianakas, in his 10th year of teaching, echoed Maurer's arguments that students need to learn how to incorporate technology into the classroom and be media literate.
"I can't imagine education without it," he said.
MTHS senior Adair Rodriguez likes the netbooks, as well.
"I like that I don't have to waste paper and buy books," he said.
The only downsides to the new technology, Chianakas said, are problems that hadn't been thought of before.
"I caught somebody just the other day that had notes minimized during a quiz," he said.
As Maurer prepares to leave MTHS, he said it's important for students to know how to use these types of things in order to be better situated in a global environment.
"The world is changing," Maurer said, "and we have to change with it."
Next year, Maurer said three more teachers would probably use netbooks.  After an 18-month evaluation, he said it could be feasible that all of MTHS's 950 students could get a netbook.
Maurer said students in general get a reputation of not being very smart today, but he said this isn't true.  They're not necessarily experts, but he said focusing on technology is more important than trying to get high test scores.
Students can use the technology to work in groups.  For example, Maurer's son Adam attends U of I and said he is able to teleconference with his group members in Champaign-Urbana on their projects when he's at home, for example.
"There's very few jobs where people work as an individual," Maurer said.
He said there is a shift from memorizing information to finding information.
"You don't want to memorize information anymore," he said.
Instead, he said it was important for students to find information through computers, friends or iPods, and for teachers to make sure students know how to utilize those tools.
"But then how do you evaluate that information?" he asked.
Now, Maurer said it's about analyzing the data in order to solve a problem.
The hard part, he said, was getting teachers to change and utilize new technology.
Read a little more about how MTHS faculty members got the netbooks
Searching for a new super
The MTHS school board has hired a firm to find a replacement for Maurer, although he disagrees with this decision.
"I would've recommended we go inside and grow our own," Maurer said.
The firm, according to MTHS school board president Scott Winkler, will help whittle down all of the applicants to six based on certain criteria the board has set.
"We need to be absolutely sure we've gone through a process that gives us the best possible candidates we can consider," Winkler said.  "[So] when we look back, we can say, 'We did the best we could.'"
A survey on the school's site asked for input from members of the community to help members of both the firm and the board find the best possible candidates.  Winkler credits Maurer with building renovations, conservative fiscal management and a cutting-edge curriculum.  More than anything, though, Winkler said the community wanted the new superintendent to be a good people person.
"They like the idea that we should be always looking forward to what our students need in the classroom and [supporting] our teachers," he said.
Winkler expects to wrap up the search by December or January and hopes to announce Maurer's replacement by the end of the first quarter 2011.
Maurer's post-retirement plans
Maurer looks forward to staying active by walking, running and bicycling.
He confirmed the trophies resting in the corner of his office were from his running competition days, but he is competing in fewer races now.  Instead of winning a race, he tries to beat his own time.
"It's harder to do as you get older every year," he said.
He began running when he was a principal to release stress.  He said it stimulates his mind and helps him develop speeches and plans in his head.  Sometimes he walks or runs around Metamora with his wife, but sometimes he goes through Black Partridge Park on the northwestern edge of town.
Now, Maurer said he's worried about how much stress he puts on his heart following a heart attack suffered during a 2001 father-daughter basketball tournament with his daughter, Kendra.
"That's a wake-up call," he said.
"If I continue to work out, it'll make the heart stronger and I'll live longer," he said.  "At the same time, I can be overstressing the heart."
Maurer also enjoys writing, saying he'll probably work on a book about education.  He regularly writes for education publications, having been just recently featured in the "Illinois School Board Journal" regarding finances.  Eventually, he wants to write about special ed students and standardized testing.
"I wouldn't mind writing a good mystery book, too," he said.  "I'm already plotting the Black Partridge murders."
After he retires, Maurer said people have told him he ought to run for office.  If he did, Maurer said he'd try to do a campaign without the negativity.  But he's still undecided.
"I don't have any money," he said with a laugh.  "And I don't know who'd give me any money."
Maurer said one advantage would be name recognition.
[Update 4/27/11: According to the Woodford Times and the Peoria Journal Star, Maurer lost his bid for Illinois state Senate.]
[Update 4/9/13: Maurer was elected village president (mayor) of Metamora.]
He also looked forward to spending more time with his children.  Jake, his oldest, played football with Dallas Cowboys quarterback Tony Romo at Eastern Illinois University.  Kendra was a volleyball player in high school and now teaches at Central Grade School in Washington.  Another son, Luke, served in the military in Iraq and is now trying to get a job at MTHS after working as a policeman in Charleston, S.C.  Adam, his youngest, planned on graduating from the University of Illinois's engineering program in December.
Maurer has three grandchildren with a fourth on the way.
The decision
After 41 years in education, Maurer said it's time to retire.
"It's a tough call to all of a sudden quit," he said.  "I bet 90 to 95 percent of the time I've really enjoyed it."
Maurer said most of the time he likes what he's doing, but he said the 60-hour work weeks are getting increasingly difficult.
"I don't have the energy I used to have," he said.  "I don't know if it's fair to not be able to put in 110 percent."
As Maurer looked back to his desk of papers, he said he was in the midst of getting everything in place for whomever takes over next school year.
School board president Scott Winkler said the average tenure for a superintendent in the state of Illinois was three or four years, and Maurer has held that position for 23 years.
"I think the biggest key to his success when he started was knowing what the strengths of the district were," Winkler said.
By knowing those, Winkler said Maurer was able to move from one stage to another.  Some districts don't have that ability, he said, and have to start over in some respects when a new person comes in.
Maurer said whomever the MTHS school board decides on for its new superintendent will "hopefully be able to build on what we've got."
Update: Since this article was written, the Peoria Journal Star announced that MTHS school board members chose Randy Topeke to be Metamora's next superintendent. Toepke, 56, has been with MTHS for 34 years, serving most recently as the school's principal.
Read more about Maurer's experience as a principal, his push to build an auditorium for Metamora, the arrival of netbooks and Project Lead the Way at MTHS and more
Full disclosure: I attended Metamora Township High School from 2003 to 2007.